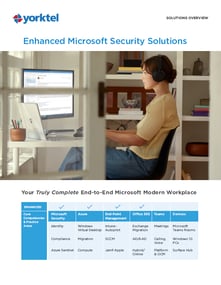 Enhanced Microsoft Security Solutions
In this solutions overview, discover how Yorktel is your truly complete end-to-end Microsoft Modern Workplace partner.

Microsoft Partnership
As a Premier Microsoft Solutions Partner, our IT Managed Services experts have the technical resources to plan, deliver, and fully manage Microsoft solutions and services, quickly getting your users up and running. Our keen understanding of the Microsoft digital workplace environment helps us to guide organizations in making intelligent decisions about how to use their Microsoft ecosystem for maximum efficiency and effectiveness. We also hold partnerships with other Microsoft Certified Partners, providing an additional layer of industry expertise to our clients.
Whether you're a Teams beginner, a Power User, an IT Administrator or a Virtual Trainer, this webinar will help you get ahead and be more productive using Microsoft Teams.
You will learn:
Standardization:

What is the best way to control and manage teams within Microsoft Teams to ensure standardization across your user base
Compliance:

What are your compliance options – how to control access to document security and classification?
Security:

How should you address security in general – do you want to allow external visitors into your environment? If yes, to what degree do you want to provide access?